Kota Tua Jakarta


This was the first thing that came to my mind that day. I need to go out, but didnt have any plan yet. It was a nice day to visit historical sites. To let the routine and complex things out off my brain for a while.
Jakarta Old Town (Kota Tua Jakarta), also known as Old Jakarta, and Old Batavia (Oud Batavia), is a small area between North Jakarta and West Jakarta. Its easy to reach. A walkable place from Busway stop and train station. Or just park your car right beside the area.
History
In 1526, Fatahillah, sent by Sultanate of Demak, invaded Hindu Pajajaran's port of Sunda Kelapa, after which he renamed it into Jayakarta. In 1619 the VOC (Dutch East Indies Trading Company) destroyed Jayakarta under the command of Jan Pieterszoon Coen. A year later the VOC built a new town named "Batavia" to honor Batavieren, the Dutch ancestors.
Inhabitants of Batavia are called "Batavianen", later known as "Betawi" people, the descendants of mixed various ethnicities that inhabited Batavia.
In 1635 the city expanded towards the west banks of Ciliwung. The city of Batavia was completed in 1650. It became the headquarters of the VOC in the East Indies. Later became the administrative center of the Dutch East Indies. In 1942 during the Japanese occupation, Batavia was renamed Jakarta, and still serves as the capital city of Indonesia.
Oud Batavia is home of several important historical sites and buildings:
Jakarta History Museum (Former City Hall of Batavia)
Fatahillah Square
Fine Art and Ceramic Museum(Former Court of Justice of Batavia)
Cafe Batavia
Wayang Museum (Shadow Puppet Museum)
Jakarta Post Office
Here you can rent a bike to visit historical place surrounding. Its easy, cheap n fun.There are many classic but colorful bike you can choose.Prices include the classic-style hat to feel the atmosphere of the Dutch era.
I rent a bike ( a classic bike ) and ride it along the area.
Kota Intan Drawbridge
Toko Merah (Red Store)
Other Place that reachable by bicycle are:
The Port of Sunda Kelapa
Maritime Museum
Menara Syahbandar (Port Tower)
Jakarta Kota Station (Beos Station)
Luar Batang Mosque
Glodok and Pinangsia Area (Jakarta Chinatown)
Petak Sembilan
Enjoy the ride.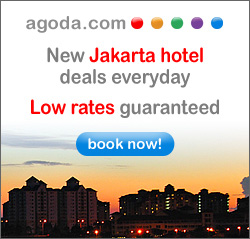 Reff:
http://en.wikipedia.org/wiki/Jakarta_Old_Town